Upholstery Cleaning in Tampa
Stained, dull furniture comes from spills, dirty shoes, and just plain living. When we use furniture, it gets dirty. Since you can't keep the dirt away, the next best thing is to keep it under control. That's where upholstery cleaning comes in.
Why UCM Upholstery Cleaning
UCM Upholstery Cleaning has been operating in the Tampa area for over a decade, providing clean upholstery and carpeting for homes, offices, and other commercial properties. We are completely committed to your satisfaction. This guides every decision we make, from hiring staff to selecting cleaning equipment for purchase. It's that simple. If it doesn't lead to better cleaning results, we don't do it.
The Right Upholstery Cleaning Method
There is no best upholstery cleaning method, just the method that will take the best care of the fabric that needs cleaning. At UCM Upholstery Cleaning, we treat each piece of furniture individually. We have firsthand experience with all types of upholstery fabrics and fibers, so we know exactly how to treat your furniture:
We inspect the upholstery for stains, damage, and general condition and verify that the cleaning solutions will not damage or discolor the fabric.
We speak with the customer about what they can expect from the cleaning. We listen carefully to their concerns and answer their questions.
We dust and vacuum the upholstery to remove loose and solid soil from the surface. We have found that this is an important step of the cleaning process.
Stains and deep soiling are pre-treated to aid complete removal.
High tech upholstery cleaning equipment is paired with safe, green cleaning solutions to completely clean the upholstery.
We carefully groom the fabric for the "just delivered from the store" look that our customers love.
UCM Upholstery Cleaning has premium cleaning solutions for leather as well! We restore the natural moisture balance to prevent cracking and drying of the leather.
Expert Cleaning for Boat Interiors
When your boat or yacht needs cleaning, give us a call. We have expert cleaning solutions for leather and vinyl seating, plus headliners, wall panels, carpets and more! UCM Upholstery Cleaning is located right here in the Tampa Bay area, for superior availability. Call today to schedule an on-site estimate.
UCM Upholstery Cleaning guarantees your satisfaction. We work seven days a week, with same day appointments available. Call 727-203-4000 now to schedule your cleaning.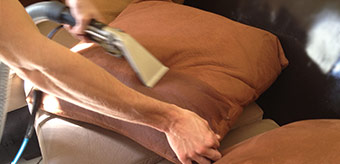 Service Area
Hillsborough county areas surrounding:

Tampa, Greater Carrollwood, Lutz, Lake Magdalene, Temple Terrace, Greater Northdale and more...

Pinellas county areas including:

St. Petersburg, Clearwater, Palm Harbor, Boca Ciega, Largo, Pinellas Park, Dunedin and more...

Pinellas county western areas including:

Central Pasco, Port Richey, Land O' Lakes, Wesley Chapel and more...